---
For more information on any of these books or to buy the book, simply click on the book's title.
---

There's a Spiritual Solution to Every Problem
by Wayne W. Dyer

In this inspiring new book, bestselling author Wayne W. Dyer shows us that there is an omnipresent spiritual force right at our fingertips that contains the solution to our problems — from ill health to financial worries to relationship difficulties. Drawing from various spiritual traditions, especially from the prayer of Saint Francis of Assisi, Dyer helps us unplug from the material world and awaken to the divine within.

---

Killing Giants, Pulling Thorns
by Charles R. Swindoll

In short, hard-hitting chapters, Chuck Swindoll takes on attitudes and circumstances that threaten our faith, the giants that intimidate, and the thorns that infuriate. In this devotional classic, bitterness, fear, the tongue, grief, and 20 other giants and thorns receive biblically-based discussions.

---

A Grief Observed
by C. S. Lewis

In April 1956, C.S. Lewis, a confirmed bachelor, married Joy Davidman, an American poet with two small children. After four brief, intensely happy years, Lewis found himself alone again, and inconsolable. To defend himself against the loss of belief in God, Lewis wrote this journal, an eloquent statement of rediscovered faith. In it he freely confesses his doubts, his rage, and his awareness of human frailty. In it he finds again the way back to life.

---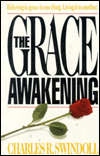 The Grace Awakening
by Charles R. Swindoll

In this best-selling classic, Charles Swindoll awakens readers to the life-impacting realities of God's grace, the freedom and joy it brings, the fear it cures, the strength it lends to relationships and the ever-increasing desire to know God. A modern day classic from Charles Swidoll.

---

Hinds' Feet on High Places
by Hannah Hurnard

Who does not wish that they could overcome evil, tribulation, sorrow, and pain, and transform them all for the praise and glory of God? Who does not want to live here on earth on the high places of love and victory as promised by God? This cannot be done by reliance on ourselves alone. We must lay down our own selfish will and accept the liberation of living according to God's will. Hinds' Feet on High Places shows us how we can triumph over evil and pain, grief and suffering by placing ourselves in the hands of God, who wants to bring all his children to him.

---


Death and the Life After
by Billy Graham

Our culture trains us to prepare for almost everything but death. How can we know what awaits us beyond this life? In this provocative book, Billy Graham answers many questions about the process of dying and about life after death. Practical and poignant, Graham offers peace and assurance for facing our final days on earth.

---

Home Town Tales
by Philip Gulley

In this sequel to his immensely popular bestseller Front Porch Tales, Quaker writer Philip Gulley envelops readers once again in a rare world of plainspoken and honest values. These tender stories of his life are gathered around the enduring themes of the great spiritual virtues: love, joy, peace, patience, kindness, goodness, faithfulness, gentleness, and self-control. Each story reminds us how we long for such virtues in a world sorely in need of the love and hope they bring. With his folksy style and rustic ear, Gulley treats his readers to a great variety of personalities — from the loveable to the eccentric — who make small town life fascinating. Readers will discover a simpler way of life, where things are less complicated and folks care for one another and are willing to do what is right — no matter the cost.

---

Where Is God when It Hurts?
by Philip Yancey

"If there is a loving God, then why is it that . . ." You've heard that question, perhaps asked it yourself. No matter how you complete it, at its root lies the issue of pain. Does God order our suffering? Does he decree an abusive childhood, orchestrate a jet crash, steer a tornado through a community? Or did he simply wind up the world's mainspring and now is watching from a distance? In this Gold Medallion Award-winning book, Philip Yancey reveals a God who is neither capricious nor unconcerned. Using examples from the Bible and from his own experiences, Yancey looks at pain — physical, emotional, and spiritual — and helps us understand why we suffer. This most current edition of what is perhaps Yancey's best-known book will speak to those for whom life sometimes just doesn't make sense. And it will help equip anyone who wants to reach out to someone in pain but just doesn't know what to say.

---


The Fruitful Season: Meditations for the Autumn of Life
by Helen Ward Schmieder

In large print that is easily read, fifty meditations hold up everyday concerns for aging adults. Basing her meditations on passages from the Bible, Schmieder writes about the difficulties and joys of accepting change, acknowledging our gifts, enjoying God's creation, praying for ourselves and others, being patient, dealing with loss, and much more. Seasonal meditations for Advent, Christmas, Epiphany, Lent, Easter, and other holidays encourage year-round use.

---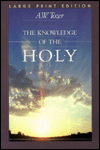 The Knowledge of the Holy; The Attributes of God: Their Meaning in the Christian Life
by Aiden W. Tozer

What is the nature of God? How can we recapture a real sense of God's majesty and truly live in the Spirit? This beloved book, a modern classic of Christian testimony and devotion, addresses these and other vital questions, showing us how we can rejuvenate our prayer life, meditate more reverently, understand God more deeply, and experience God's presence in our daily lives.

---


What Happens to Good People when Bad Things Happen
by Robert A. Schuller

It's not easy to understand or accept, but the most wonderful blessings of life can be experienced during the worst of times. And Robert A. Schuller doesn't want you to miss them.

---
He Still Moves Stones
by Max Lucado

Why does the Bible contain so many stories of hurting people? Though their situations vary, their conditions don't. They have nowhere to turn. Yet before their eyes stands a never-say-die Galilean who majors in stepping in when everyone else steps out. Lucado reminds us that the purpose of these portraits isn't to tell us what Jesus did—but rather to remind us what Jesus still does.

---

Stories for a Dad's Heart
by Alice Gray

Stories for a Dad's Heart is a poignant collection of stories destined to invigorate the hearts of dads. Filled with encouragement, inspiration, and humor from many of today's most respected Christian communicators, these stories will motivate dads to be all they can for those that mean the most to them. Fathers, sons, and grandfathers will all enjoy and benefit from the values and virtues found in this captivating collection.

---

Life without Strife: How God Can Heal and Restore Troubled Relationships
by Joyce Meyer

Today the spirit of strife and contention is destroying churches, marriages and families, friendships and relationships with God. Bible teacher Joyce Meyer holds out the possibility of life without strife by heeding biblical instruction.

---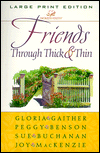 Friends through Thick and Thin
by Gloria Gaither

Gloria Gaither, Peggy Benson, Sue Buchanan, and Joy McKenzie invite you to savor the joys and strengths of friendship. Join them in a humorous and touching look at the peaks and valleys, the laughter and tears, that are shared wherever hearts connect. Using the metaphor of a garden, the women share the lessons they've learned about cultivating relationships that grow stronger and more beautiful through life's seasons. From the funny to the tragic to the poignant to the refreshingly frank, each short chapter is a slice of life. Friends Through Think and Thin is a joyous, personal time of sharing with four extraordinary women.


---
"In Assosication with Barnes & Noble.com"
"In Assosication with Amazon.com"
---

NOTE: Most product information and images are provided by the respective publisher, manufacturer or distributor. While we strives to provide accurate content so our readers can make a well-informed purchase, Large Print Reviews is not responsible for inaccuracies and/or exaggerated claims.

---
Questions or Comments? Send an email to:
---
Copyright © Large Print Reviews 2001-2017 - All Rights Reserved
---